I sit drinking coffee under a a blanket, children piled high on my lap, and remember only after he's gone the card and his favorite candies that still sits hidden in my top dresser drawer. It's a small but genuine token on this day of romance
where restaurants fill and flowers abound and love flows syrupy and sweet.
I am hard on myself for forgetting.
But just as it's in the being broken that I am being healed, it is also in the forgotten in which I am reminded.
How you really say

I love you

to the half of your two become one is by giving thanks to the One who joined you.
11-20 of my 1000 gifts...
11. Dinner out but hearing only the clinking of our two glasses.
12. A weekend away and the eyes to appreciate the beauty in every moment.
13. A kiss admits a sea of children below.
14. Coffee and a chocolate croissant shared in the quiet corner of a cafe.
15. His gentle teasing that reminisces of our once boy-girl love.
16. The familiarity of his hands and finding them effortlessly.
17. Riding quiet.
18. Frozen yogurt with one spoon.
19. His continual yeses despite all my no's.
20. Love that comes only because He first loved us.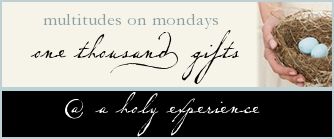 "We are to love then because it is the essence of God who lives in us, because love is manifest by Jesus Christ who gave Himself for us, because love is the key to our testimony and declaring the very reality of our God. In loving each other in a perfect, mature, whole way, we put God on display."